The unique EARTH projection
The unique EARTH projection (shown at the 2002 Whitney Biennial) is the final piece of the EARTH system. The installation consists of 2 stand-alone EARTH user stations and an overview projection.
The overview of EARTH is projected on a translucent latex weather balloon, placing the three-dimensional EARTH rendering in the "real," three-dimensional world. The projection has perceivable depth; the use of a weather balloon as a projection surface frees EARTH from the flatness of a two dimensional screen. The world
appears to float etherially in an actual space.
The overview projection on the balloon shows the whole Earth from the viewpoint of the outer layer. Visible on the sphere are the Landsat 7 images viewed by visitors in the museum (at the user stations) and by users of the Java browser module. The EARTH overview projection can be rotated with a trackball input device.
Expanding upon the networked community of EARTH viewers, the projection not only indicates other viewers positions, it also displays the exact information they are currently viewing. It is the overview of the complete system, the "Big Brother" in an a benign informational universe, reminding us of the often frigtening nature of the techno-informatic landscape developing in the real world, often not for such benign ends.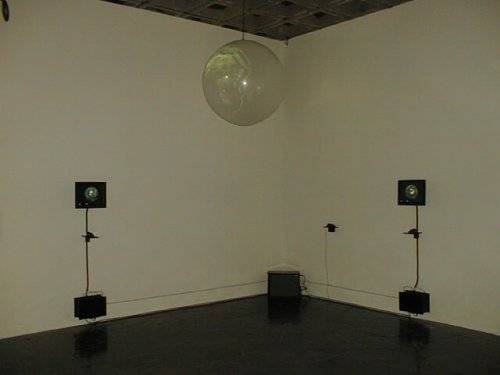 EARTH projection at the WHITNEY Museum (house lights on)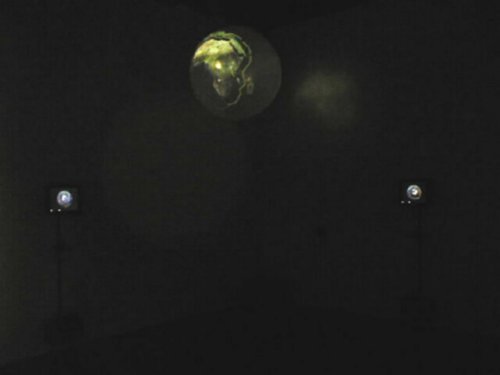 EARTH projection at the WHITNEY Museum (normal lighting)