adriana sá
trans-disciplinary music

Emotional Object was created in collaboration with John Klima, Sofia Oliveira and jared hawkey. As an interactive installation, it is a multi-user game that invites to act upon a mechano-sculpture and a musical composition through a digital interface. The player proceeds while speculating about which emotion will result from a certain action, and about the effect of the individual over the collective.

Emotional Object comprises a physical structure and a 3D game interface that represents it. Rotating like a child's spinning top, the object, both physical and virtual, is divided in sections mapped onto 24 emotional states represented by

colors

and musical phrases.

Each emotion provides the player with four options he has to choose from: four different actions leading to subsequent emotions. The player can only suppose which emotion results from a certain action. Players leave weights over the emotions they pass through; as these correspond to a physical location in the object, they affect its balance. The game goal is to keep the object in floating balance; the passing through the various emotional states layers the corresponding musical phrases into an interactive soundscape. Should the object lean too far, no one wins and a new game will begin.
The last show of Emotional Object was at ZDB in Lisbon (2009). Here are some pictures:
A first version of Emotional Object has been presented at the Beta Festival in Geneve (Centre pour l'Image Contemporaine, '08)
Here are some pictures:
EMOTIONAL OBJECT - TECHNICAL DIAGRAM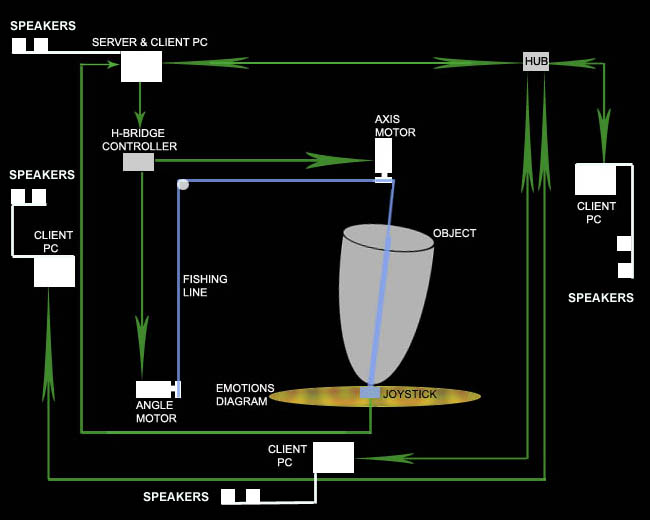 THE SOUND OF EMOTIONS
COLOR AND PLACEMENT OF EMOTIONS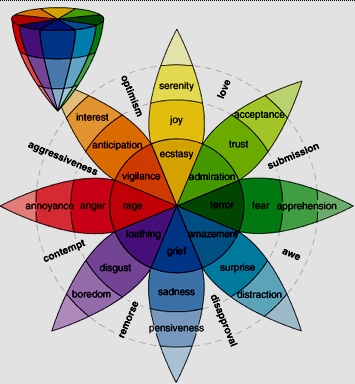 'The Nature of Emotions' by Plutchik
EMOTIONAL OBJECT IS SUPPORTED BY:

Direcção Geral das Artes / Cultural Ministry Portugal
Centre pour l'Image Contemporaine / Vesion Beta Festival (Geneve, Sw)
ZDB (Lisboa, Portugal)