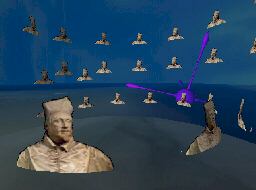 You will enter a simple starter world that progresively downloads further worlds as you use it. This is the waiting world, and contains a musical toy to play with while you wait for the downloads. click on the large floating planets to enter those worlds. Once the worlds are cached, you will enter them immidiately and will not have to wait for the download. Use the arrow keys to navigate, J key to jump. Holding the shift key down with the up and down arrow keys allows you to look up and down. Use the mouse to manipulate objects in the scene.
Metaverse support@cityarts.com
System Requirements:
Pentium II 200mHz
32 meg RAM
Soundcard with MIDI enabled
3d Accelerator
PhaseOne:
Install the Sense8 WorldUp Standalone Player.



Download the DirectX player unless you know you have an OpenGL compatible video card.
PhaseTwo:
click below to enter the world. Answer dialogs correctly to register with your browser, or simply save this file to your desktop and double click
Do not disconnect from the internet.