The concept for user interaction is simple and direct, viewers have no difficulty understanding their actions in the environment. However, the mechanisms are flexible and open-ended, such that a single viewer, or a group of viewers, can play with the installation for quite some time, exploring a wide variety of causes and effects.

The computer based projection consists of a group of "virtual" people, the original participants in the workshop (the creators of the piece) aligned in a row at the bottom of the image. Also in the projection, one for every propeller/sensor combination, is a focused beam of colored, modulating light, controlling the speed of the propellers.

When a viewer steps on the floor, they begin to animate the "virtual" people. The closer to the propellers the viewer walks, the closer to the propeller a virtual person becomes. In other words, as a viewer walks towards the propellers, so does a virtual person. The greater the number of viewers on the floor, the greater the number of virtual people will approach the propellers.

When a viewer, or viewers, are congregated at the closest points to the propellers, the virtual people get "sucked" into the propellers head first, becoming virtual "propeller blades", on the actual propeller blades, creating an intriguing stroboscopic effect. At this point the viewers can also block and modulate the light beam on the propellers, directly controlling the speed. The overall evaluated pressure on the floor in turn controls the speed at which the virtual people "spin" on the propeller blades.

These handfull of interaction mechanisms combine and interrelate to create a wide variety of effects in the installation. a single viewer can run across the floor, triggering the projection quite rapidly, or they can walk slowly and deliberately, carefully evaluating their actions. Groups of viewers can jump on and off the floor in tandem, causing all the virtual people to instantly fly into the propellers. A great many combinations of effects have yet to be discovered.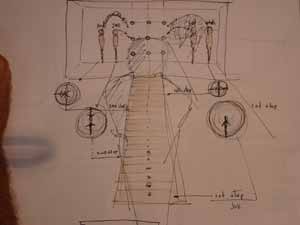 concept sketch for installation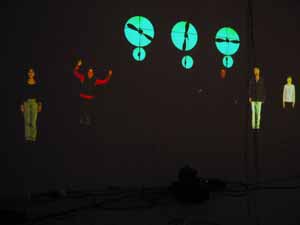 view of projection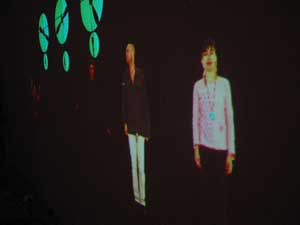 closeup of projection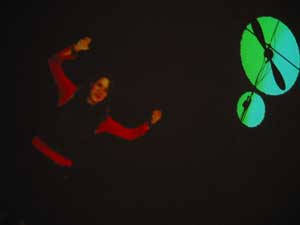 closeup as "virtual" person approaches fan