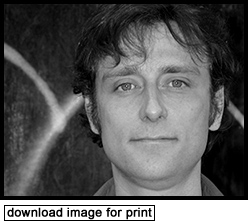 John Klima employs a variety of technologies to produce artwork with hand-built electronics, and computer hardware and software. Consistently connecting the virtual to the real, Klima builds large scale electro-mechanical installations driven by 3D game software he programs from scratch. The virtual computer imagery mirrors and extends the potential and agency of the physical components to produce cohesive worlds that are both humorous and sinister. In 2003 he focused on his long-time fascination with model railroading to create his first HO scale railroad piece, titled simply
Train
. Exhibited in December 2003 at Postmasters Gallery in New York,
Train
was shown in April 2005 at the DeCordova Museum in Boston, and in September became part of the permanent collection of the Museo Extremeño e Iberoamericano de Arte Contemporáneo in Badajoz, Spain. Klima has exhibited extensively in museums and galleries in the United States, Europe, and Asia. His exhibitions include BitStreams at the Whitney Museum of American Art as well as the 2002 Whitney Biennial. He has also exhibited at Eyebeam, The New Museum of Contemporary Art, PS.1 and The Brooklyn Museum of Art. His international exhibitions include The Museum for Communication in Bern, Switzerland, the NTT InterCommunication Center in Tokyo, Japan, The Daejeon Municipal Museum in Korea, and numerous international festivals. Selections from his bibliography include the
New York Times
,
The New Yorker
,
Art Forum
,
Flash Art
, and
Business Week
. Klima was recently a research scientist at the Courant Institute, New York University, and is currently adjunct Professor of Digital Media at the Rhode Island School of Design. Klima also teaches an extensive course in game design theory and production at the Polytechnic University of Brooklyn. John Klima is represented by Postmasters in New York, Bank Gallery in Los Angeles, and Gallery of International Media Art, Berlin, Germany.