a few words about ScratchBuilt Recording studio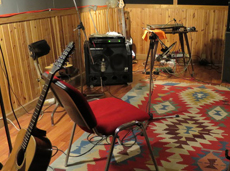 Vintage Analogue.

We currently have four studios, each with its own unique sound characteristics, and two post-production facilities. For video post-production we have a room dedicated to a suite of tools used for voice-over and subtitling. For recording,"Cabo" is an intimate studio/control room suite we use for vocal, drum, and saxophone isolation, duos, and instrument overdubbing. It is also the primary studio we use for film/video overdubbing and video synchronization, for several major broadcasting companies. "Barco" is an ultra silent room excellent for live isolation/separation of even the loudest rock bands. "Grande," equipped with an upright piano is preferred by our jazz clients, while "Nova," our most "bouncy" room, is excellent for synths and electronics.
our advantages
1.
4 Rooms
For both Recording and Mastering or Video and post-Production works.
2.
Analogue
Some say it's something that cannot be explained, here at ScratchBuilt the Analogue takes over the Digital Era
What We Do
Band List & Alumni (in no particular order)